Infant Oral Health – Coppell, TX
We Manage Every Stage of Your Child's Development
Dr. Rozas and her associates are Board Certified Pediatric Dentists with over 30 years of education and experience oral growth, development, and care of children. We are here to take care of your child from infancy to those teenage years. Our goal is to provide you with information, guidance, and skills so that your child will not only have excellent oral hygiene, but also a healthy smile. At each evaluation, your child receives a thorough exam which includes structures like teeth, gums, and tongue, but each exam also includes an evaluation of their occlusion, eruption issues, pathology exam, and evaluation for any oral habits that could disturb their mouth's form or function. We offer treatments to optimize infant oral health in Coppell, TX at Melissa Rozas DDS and Associates.
Why Choose Melissa Rozas, DDS & Associates for Infant Oral Health?
We Treat Your Child Like Our Own Family
Early Prevention & Detection - Keys to a Healthy Mouth
Teaching Home Techniques for Cavity Prevention
Perinatal Care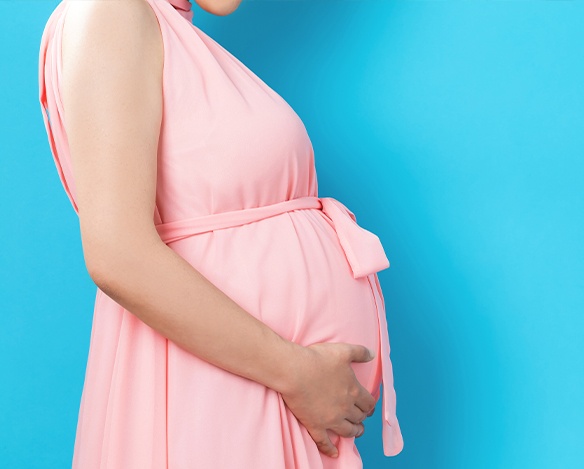 The American Academy of Pediatric Dentistry (AAPD) recommends that all pregnant women receive oral healthcare and counseling during pregnancy. Research has shown evidence that periodontal disease can increase the risk of preterm birth and low birth weight. Talk to your doctor or dentist about ways you can prevent periodontal disease during pregnancy.
Additionally, mothers with poor oral health may be at a greater risk of passing the bacteria which causes cavities to their young children. Mother's should follow these simple steps to decrease the risk of spreading cavity-causing bacteria:
Visit your dentist regularly.
Brush and floss on a daily basis to reduce bacterial plaque.
Proper diet, with the reduction of beverages and foods high in sugar & starch.
Use a fluoridated toothpaste recommended by the ADA and rinse every night with an alcohol-free, over-the-counter mouth rinse with .05 % sodium fluoride in order to reduce plaque levels.
Don't share utensils, cups or food which can cause the transmission of cavity-causing bacteria to your children.
Use of xylitol chewing gum (4 pieces per day by the mother) can decrease a child's caries rate.
Infant Oral Health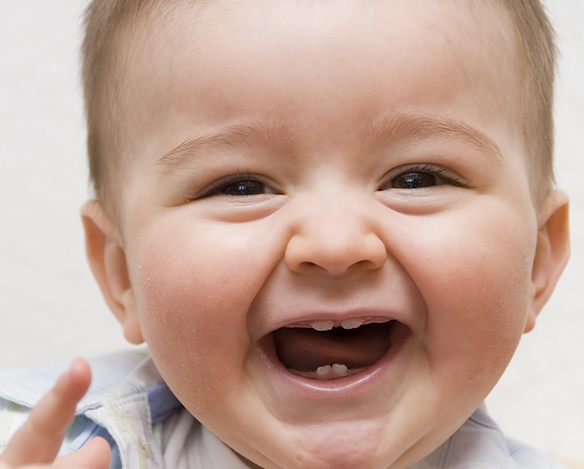 Giving your child the best start to a healthy smile actually begins before the first tooth erupts. We recommend cleaning their gums at least once a day, or after their feeding by using a soft cloth or a clean gauze pad with your finger pressed into it as you move along gums. Once teeth start to erupt (around the age of 6 months) making sure to wipe any excess milk away after each feeding. We do not recommend using toothpaste until they are two years of age. Good brushing habits starting at an early age can help prevent cavities in the future.
Dr. Rozas and her team are experienced with teaching new parents how to take care of their baby's mouth and teeth. The exams on infants are quick and easy, and so educational. Not only do parents receive oral hygiene instructions, but Dr. Rozas will also exam the baby's mouth for any structural issues like tight frenums (tongue-tie/lip tie) but also, they will assess the arches for spacing issues.
Establishing a dental home early also gives your child a place to go in case of a dental emergency. Call us today to schedule your baby's first visit!
Your Child's First Dental Visit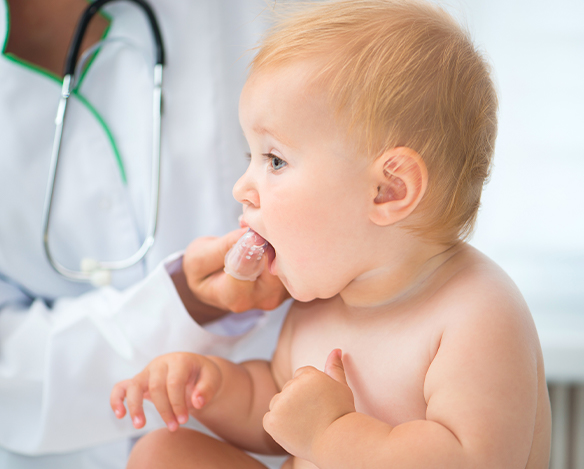 The American Academy of Pediatrics (AAP), the American Dental Association (ADA) and the American Academy of Pediatric Dentistry (AAPD.) all recommend establishing a "Dental Home" for your child by age one. Children who have a dental home early in life are more likely to receive appropriate preventative care, have less need for dental restorations and more likely to be comfortable in a dental setting. Pediatric dentists are not only comfortable with seeing children as infants and young toddlers but they are really experts in this area!
Establishing a dental home early, also gives the family a safety net in case there is a dental emergency. Many falls and accidents happen during those first years of life, and we want to be here for you!
You can help make the first visit to the dentist enjoyable and positive. If your child is old enough (over 3 years of age), your child should be informed of the visit and told that the dentist and their staff will answer any questions about an upcoming procedure, assuming they are old enough to understand. The less to-do concerning the visit at your, the better.
Avoid words around your child that might make them feel fearful for no reason, such as pull, needle, hurt or drill. At our pediatric dental office, we always make an effort to use words that convey a similar message, but are pleasant and non-frightening to the child.
The Importance of Baby Teeth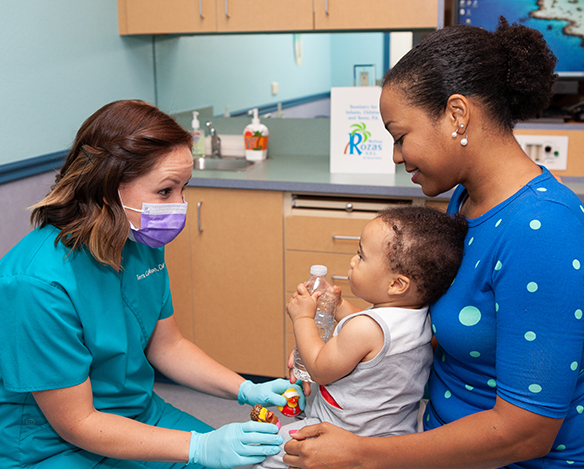 Primary teeth are very important to maintaining long-term oral health. When cavities are not taken care of, they can cause problems with developing permanent teeth which haven't yet erupted. Also known as baby teeth, primary teeth are essential for chewing and eating, providing room for permanent teeth to eventually erupt so they can be guided into a healthy position, and giving the jaw bones and muscles an opportunity to develop correctly. Baby teeth also play a role in speech and the appearance of a child's smile. Generally, the front 4 teeth remain until 6 to 7 years of age, while back teeth (cuspids and molars) don't get replace until they reach between the ages of 10 and 13.
Learn More About the Importance of Baby Teeth
Early Childhood Caries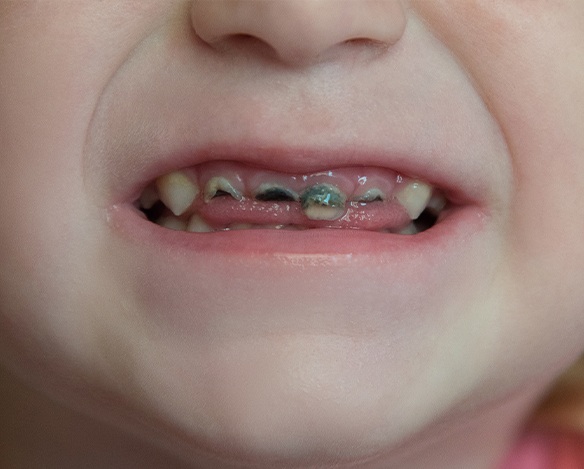 One serious form of decay among young children is baby bottle tooth decay. This condition is caused by frequent and long exposures of an infant's teeth to liquids that contain sugar. Among these liquids are milk (including breast milk), formula, fruit juice and other sweetened drinks.
Putting a baby to bed for a nap or at night with a bottle other than water can cause serious and rapid tooth decay. Sweet liquid pools around the child's teeth giving plaque bacteria an opportunity to produce acids that attack tooth enamel. If you must give the baby a bottle as a comforter at bedtime, it should contain only water. If your child won't fall asleep without the bottle and its usual beverage, gradually dilute the bottle's contents with water over a period of two to three weeks.
After each feeding, wipe the baby's gums and teeth with a damp washcloth or gauze pad to remove plaque. The easiest way to do this is to sit down, place the child's head in your lap or lay the child on a dressing table or the floor. Whatever position you use, be sure you can see into the child's mouth easily.
Thumb & Pacifier Use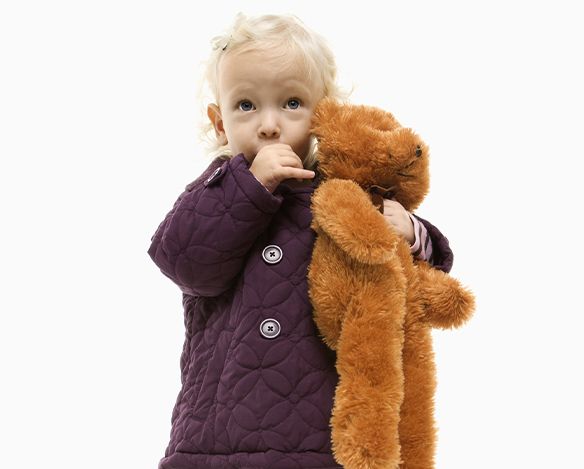 Many babies like to suck on a pacifier, their thumb, or a finger to soothe themselves. During infancy, these methods aren't necessarily harmful; however, as your child grows into toddlerhood, it becomes increasingly important to find other self-soothing techniques. Sucking their thumb, for example, can affect their teeth and their bite and create alignment problems down the road. At their next appointment, we can provide tips for ending these habits and replacing them with healthier ones.
Learn More About Thumbsucking/Pacifier Use
Bruxism (Teeth Grinding)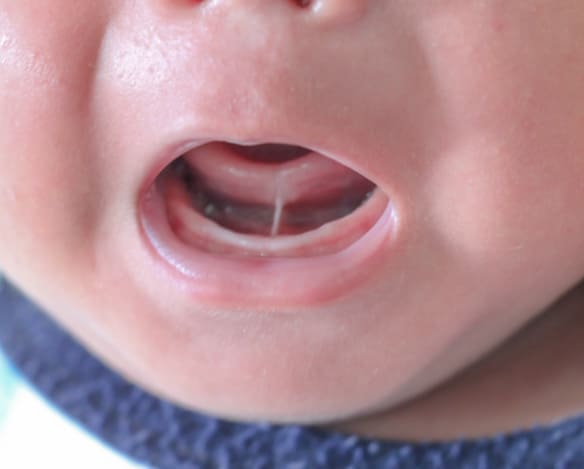 If you're a parent, you're likely concerned about nocturnal grinding teeth, or bruxism. This is often recognized by a noise created by your child as they clench and grind their teeth while they sleep. Alternatively, you might notice your child's teeth appear shorter than usual. In some cases, the cause of this condition can be psychological. Being stressed out by a new environment, a recent divorce, and noticeable changes at school (or switching schools) can all play a role in why your child might grind their teeth. However, it can also be caused by pressure in the inner ear. For example, changes in air pressure (when taking off and landing in a plane or chewing gum) can cause a child to grind their teeth back and forth to relieve this pressure.
In most cases, pediatric bruxism does not require treatment. However, if teeth are extremely worn down, a mouth guard (specifically a night guard) may be recommended. With that said, oral appliances do pose a small risk of getting caught in the child's throat if it becomes removed during sleep. It can also interfere with the growth of the jaws. Of course, they are ideal for protecting your child's teeth from future wear.
Thankfully, your child is likely to outgrow their bruxism. Grinding typically reduces between the ages of 6 and 9 and it should completely stop once they are between the ages of 9 and 12. If you worry your child has bruxism, talk to your pediatrician or pediatric dentist.