Emergency Pediatric Dentist — Coppell, TX
When Only the Best Will Do
Dental emergencies are sudden and alarming, especially if your child encounters one. Should your little one damage a tooth or experience oral pain, don't panic and stay calm. All you need to do is contact our experienced team and we will be ready to walk you through the situation. If you are a patient of record of our pediatric dental office, we provide 24-hour care for from the skilled emergency pediatric dentist in Coppell, TX. When on the best will do, call Dr. Melissa Rozas, DDS & Associates for emergency pediatric dental care.
Why Choose Melissa Rozas, DDS & Associates for Emergency Pediatric Dental Care?
#1 Advanced Training to Handle Any Situation
#2 Same-Day Appointments Available for Emergency Patients
#3 On-Call Dentist for Patients of Record
What to Do in a Pediatric Dental Emergency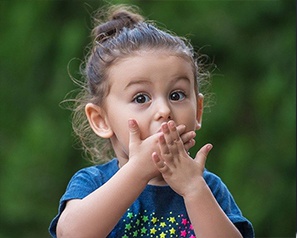 Step 1: Call our dental office as soon as you can. We do everything we can to see emergency patients the same day they call us. If you are a patient of record, you can call us 24 hours a day to speak with our on-call dentist.
Step 2: Follow our first-aid instructions. Over the phone, our experienced team will direct you on what you need to do to handle your child's dental emergency and how to manage symptoms until you can reach our dental office.
Step 3: See us for an exam. When you arrive, your emergency pediatric dentist Dr. Melissa Rozas or Dr. Terra Compton will see your child right away for an exam. They'll focus on getting your little one out of pain and stabilizing their condition while evaluating the situation.
Step 4: Review the findings & make a plan. The doctor will review their findings with you and fully explain all the treatments they recommend, including their estimated length and price. We'll work with you to put together a personalized treatment plan for your child.
Step 5: Get the gentle & effective emergency care your child needs. Our experienced staff has advanced training in a wide variety of topics, so regardless as to what treatment your little one needs, we'll get to work right away.
The Most Common Pediatric Dental Emergencies
Dental emergencies come in all shapes and sizes, and not all of them are as easy to identify as a broken or knocked-out tooth. We trust your instincts as a parent, so if you are worried about your child's oral health or notice that they are experiencing unusual symptoms, we encourage you to give us a call right away. Even if you are unsure if the situation requires emergency care, we are more than happy to help assess your circumstances over the phone and recommend the best course of action. Below, you'll find some important information regarding the most common pediatric dental emergencies we treat.
Understanding the Cost of Treating Pediatric Dental Emergencies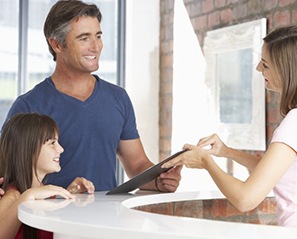 When your child needs urgent care, the last thing on your mind should be how much it costs. That's why we strive to offer high-quality care at affordable prices. That being said, we won't know how much your child's dental emergency will cost to treat until we can evaluate them. Once we've had a chance to see them, we'll be able to fully explain which treatment(s) we recommend, as well as the estimated price.
Another important thing to keep in mind is that broken or painful baby teeth are important to treat, even though they will eventually fall out. Avoiding or postponing treatment will rarely save money. Having your child treated right away will help avoid larger, more painful, and more expensive problems in the future. Read on as we cover more information about the cost of pediatric dental emergencies in Coppell.
Every Pediatric Dental Emergency Is Different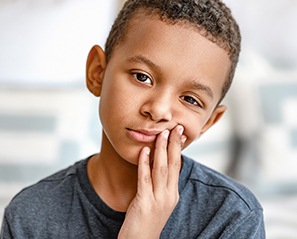 As much as we would like to give you an estimate over the phone, that's simply impossible. Every dental emergency is different, and some will cost more or less to treat than others. For example, one child's severe toothache may be addressed with a simple tooth-colored filling, while another may require more expensive pulp therapy. We will always review all of your little one's treatment options and their associated costs before we begin.
Does Dental Insurance Cover Pediatric Dental Emergencies?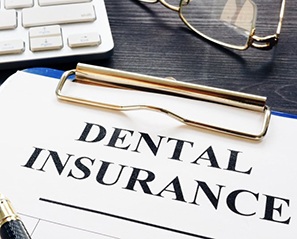 Our dental office isn't affiliated with any insurance company, so we are considered out-of-network. If your child's dental insurance has out-of-network coverage, we'll do our best to check your benefits to get an estimate for you. We'll also be happy to process your claim if you have reimbursement from your insurance provider sent directly to you.
Remember, preventive care like dental sealants, cleanings, and fluoride treatments are far less expensive than emergency dental treatments. Making sure your child sees us twice a year and receives the personalized preventive services they need can save you a tremendous amount of time and money dealing with dental emergencies in the future.
How to Make Pediatric Dental Emergencies Affordable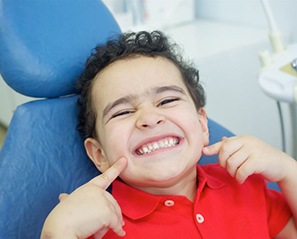 To help our patients afford the emergency dental care their little one needs, we accept financing through CareCredit. This service acts similarly to a credit card. Qualifying patients can choose from a variety of low- to no-interest plans that works best for them. Then, CareCredit will pay for the treatment right away, and the patient can break up the cost into smaller payments over the coming months. To learn more about CareCredit and apply, feel free to call us or visit our website.
Taking Care of Your Smile Can Save You Money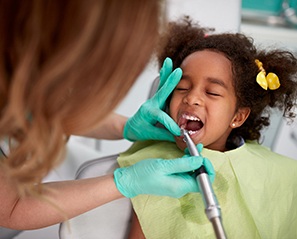 While our experienced team is ready and well-equipped to handle any dental emergency, it's always better to avoid these scary situations in the first place. Many dental emergencies can be prevented with preventive care or early treatment. In fact, recent studies most toothaches and dental injuries that require emergency care could have been prevented by cavity treatment or athletic mouthguards. That's why we strongly recommend that children visit us every six months for routine checkups and cleanings, so we can make sure everything is being done to protect your little one's precious smile.
How to Prevent Pediatric Dental Emergencies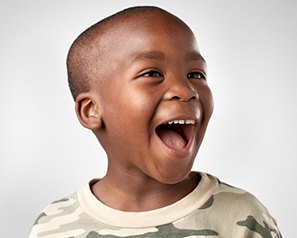 While you can always count on our team to be ready and waiting to help should your little one encounter a dental emergency, it's always best to avoid these scary situations if possible! Not every single broken, knocked-out, or painful tooth can be prevented, but a few simple precautions and healthy habits can go a tremendously long way in protecting your child's smile from harm. Read on as we go over the five best ways to prevent a pediatric dental emergency in Coppell.
Make Sure Your Child Gets 2 Checkups a Year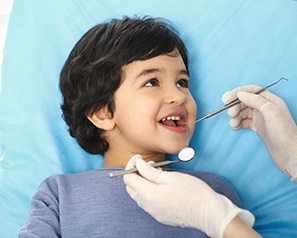 We agree with reputable organizations like the ADA and recommend that your child comes to see us for a regular checkup and cleaning every six months. These quick and easy visits help your child become more comfortable seeing us, which will make it less stressful for them to come in if they ever experience a dental emergency.
However, thorough cleanings twice a year aim to keep issues from developing in the first place. Detailed exams and personalized preventive care are also used to spot and stop dental problems as early as possible, before they have a chance to evolve into emergencies.
Practice Good Dental Habits At Home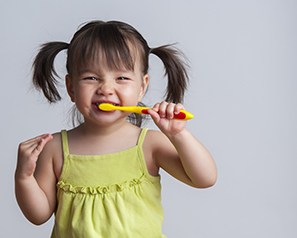 Healthy dental habits should start early in life! You can begin brushing your baby's teeth as soon as they emerge from the gums. You should use a smear of children's toothpaste about the size of a grain of rice to brush your little one's pearly whites until they're about three years old. Between the ages of three and six, they can use a pea-sized dab of children's toothpaste. After the age of six, they can graduate from children's toothpaste.
Be Careful With Your Child's Diet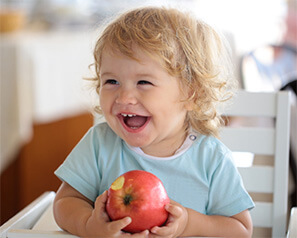 Baby teeth are especially prone to damage and cavities because the enamel is thinner than that of permanent teeth. This means you should avoid giving them foods that are particularly hard, as they could bite down too forcefully and chip or crack a tooth. Also be wary of cavity-causing snacks like:
Sugary foods like candy or fruit gummies
Fruit juice, sports drinks, and formula
Carb-heavy snacks like crackers and cookies
Protect Their Pearly Whites with a Mouthguard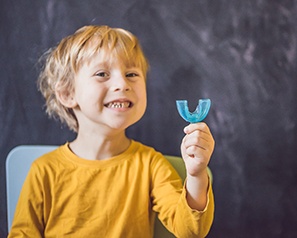 Do you have a little athlete? Whether your child plays football, tennis, baseball, or any other sport, make sure their precious smile is protected with a custom athletic mouthguard. Our custom-fitted mouthguards are designed for maximum comfort as well as optimal protection from damage.
If your child grinds their teeth in their sleep, they may need a mouthguard for bruxism. This condition can be common in children that are stressed, and puts them at a higher risk of worn-down enamel and chipped teeth.
Pediatric Dental Emergency Frequently Asked Questions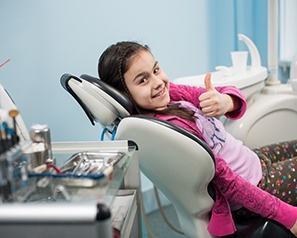 As a parent, you want to do everything you can to protect your child from harm or danger. Although you know sudden tumbles and bruised knees or elbows are unavoidable, a knocked-out tooth or soft tissue injury can leave you feeling helpless and unsure of what to do. Fortunately, our emergency dentist is here to answer your questions, address your concerns, and provide helpful tips to keep your child's smile safe. Below, you will find a list of common questions asked by parents that will help you feel better prepared should your child face a dental emergency.
Why is it better for my child to see an emergency dentist instead of going to the ER?
There are many reasons why you should avoid taking your child to the emergency room and instead, visit an emergency dentist nearby. Unless they are experiencing excessive bleeding or swelling, or they have broken or fractured their jaw, it's best to bring them to our dental office so that we can examine the problem and administer quick and effective treatment. Unlike an ER, your child's pediatric emergency dentist:
Won't have you waiting for hours in a lobby
Already know your child and their medical history
Can provide appropriate care for immediate symptoms as well as create a personalized treatment plan to ensure underlying issues are addressed
Which type of sedation is safe for my child if they are scared or nervous about visiting the dentist?
Our board-certified pediatric dentists are certified to provide CPR and Pediatric Advanced Life Support (PALS). They are also granted hospital privileges to provide general anesthesia, if necessary. If your child is feeling anxious or afraid of their upcoming visit or procedure, Dr. Rozas and her team can determine if one of the safe and effective sedation dentistry solutions is right for your child. Whether it is nitrous oxide or hospital dentistry under general anesthesia, we will make sure your little one remains safe, calm, comfortable, and completely at ease no matter the reason for their visit.
My child has special needs. Where can I find a dentist who can provide the necessary dental care?
Finding a dentist who offers special needs dentistry shouldn't be overwhelming or stressful. This is why Dr. Rozas and her associates are pleased to provide the additional care and treatment to help children with behavioral, physical, mental, or sensory needs. With more than 20 years of experience and specialized behavioral training, she and her team can offer accommodations that will allow for your child to get the dental care they need in an environment that is safe and comfortable.
My child grinds their teeth at night. What can I do to help them avoid a broken or chipped tooth?
Bruxism is a common condition among children, teens, and adults. Causing excessive wear and tear on tooth enamel as well as chronic jaw pain over time, the most effective way to help your child avoid a broken or chipped tooth while asleep is to have a customized nightguard created. Serving as a barrier between the top and bottom teeth, Dr. Rozas and her team will ensure your child's oral device is fabricated to fit comfortably and work effectively while they are asleep.